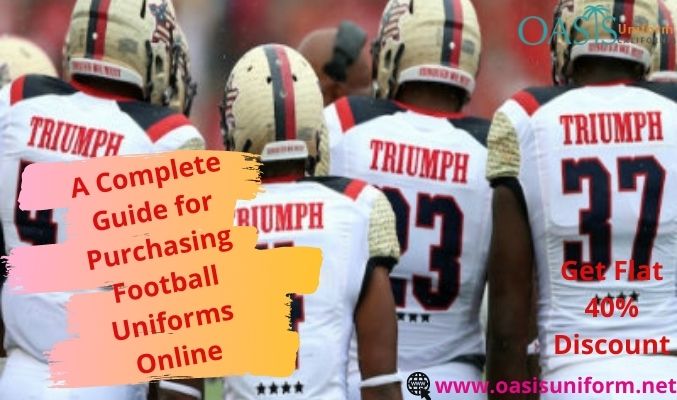 A Complete Guide for Purchasing Football Uniforms Online
Soccer, the most popular sport in America, has gradually extended its reach to the world with more than 250 million people playing in their countries for their teams. Here the choice of garment has an important role in terms of personal performance as well as further motivation and enjoyment of the entire game. Now since the game requires the players to always move about the field, it is quite important that the apparel chosen for a match is neither too loose nor too tight, offering sufficient breath ability and flexibility of movement. So for team owners it is wise to look after the right fit, fabric, style and design of the uniforms while making sure that they do not go beyond the budget.
Cut And Fit of The T-Shirts
Though these t-shirts generally come in soccer kits, you can purchase the tees separately and get them customized, if you want to promote your brand name at the same time. In this case, you have to keep the right fit and cut of the apparels in mind as they will ensure the high level of performance of the player.
Short And Long Sleeves T-Shirts
While the long sleeves tee are preferred for cold weather, keeping the wearer warm and comfortable for long, the ones in short sleeves may be chosen for warm climate. However, it is the short sleeved ones which is mostly preferred by player all over the world since they provide as much comfort as the loose-fit tees.
Jersey Materials
As the choice of fabric varies from person to person, there are different options, available at the online platforms of wholesale uniform suppliers. Cotton was originally preferred for its good absorbing quality but it resulted in wet, heavy jerseys that caused chafing in the skin and restrictions in movement. This is the reason why many high flying designers have come up with good quality synthetic fibers or cotton blends which have better moisture repelling features. For instance, the ones, made of polyester and nylon blend or compression fabrics are perfect to wick away the moisture while drying off quickly, rendering a cooling effect to the body.
Since these soccer uniforms come in a medley of colors and prints, you must find the ones which are appealing to the eyes and also help optimize the performance level of your players. For example, the red and blue striped jerseys in compression fabric, made available by the online sports uniform makers, make for stylish and comfortable addition to your stock.
Click for Audion version : A Complete Guide for Purchasing Football Uniforms Online
Direction : https://goo.gl/maps/4GxuE3e7qUR9WHxB7