All That You Need to Know About Engineer Uniforms Right in One Place!
One of the best things about the engineer uniforms is that they glow in the dark. The obvious reason for this is that they work during the nights as well to finish off a project. So in order to avoid accidents and other miscommunications, they wear uniforms that are fluorescent.
There would have been a lot of mishappenings if the engineers did not put on their uniform and do what the best thing to do – warn the general public about the zone of work! There are different color codes for different instructions that determine the safety measures taken. Although one might customize colors, it is generally taken to be the standard color codes for safety and security. The best manufacturers of engineer uniform can showcase all the latest arrivals with new designs and convenience tools! Read on to blog more to know all about engineer uniforms!
What are the benefits of having engineer uniforms?
Improved team spirit – Uniforms do enhance the team building process, it indulges the people in an united manner which is very much required to get the laborious job done!
Distinguishes workers – If all the people did all the work, it could be an utter chaos. So to designate workers according to their work, uniforms are mandatory on the field.
Protect the workers – Of course, safety wear and gear is a crucial part of engineer uniforms. They safeguard the engineers as well as the workers from a lot of possible trouble.
Improve security and recognition – Uniforms help in recognizing and identifying people, so automatically it improves the security of a place.
Promote the company or the organization – Advertising the company, institution or the organization is easily done by customizing the uniforms with a simple logo!
The color codes of safety you must know around the field of work
 1. Red – This stands for emergency stops or alarms, fire protection or danger, high risk of health and security as well. It is the color with the most frequency and hence, are visible from long distances. The same reason they put red in the traffic lights to make the traffic STOP.
 2. Orange – The color orange stands for guarding devices and moderate amount of risk. You will also find a lot of jackets being colored orange because of the same reason.
 3. Yellow – This is another color that is used to make engineer jackets, that are a part of their uniform. This color means caution, material handling instruments and equipment, and minor injury risk.
 4. Blue –  As well all no, blue is the coolest of all. It means no immediate hazard, so you can have a tad bit of fun around the field!
 5. Green – Safety equipment or information, and first aid equipment of location is designated by the color green. This is also a widely popular uniform color to wear.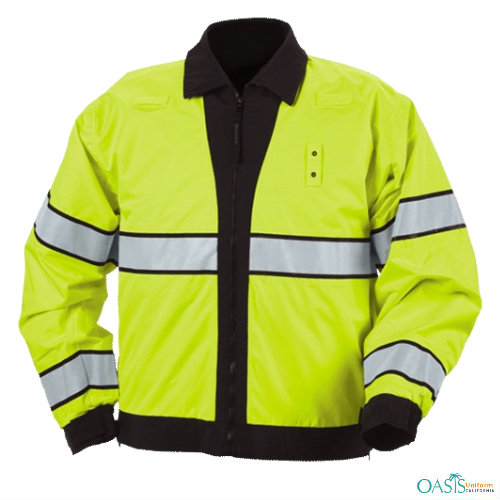 White is used to signify the presence of toxic and poisonous substances and there are various other color combinations used to signify different casuations and circumstances. For example, red and white strips on placards means the presence of a solid inflammable material. The placards with signs are also very important to follow and abide by. Take necessary protections while on field because, well, precaution is better than cure, and hazards do not ask for your invite.
Dress codes to expect
Generally one would wear normal formals in the office, but on field you need something more hardy and durable. When you get your hands dirty, you should do it well.
Non-conductive clothing that is resistant to flame.
Insulating gloves and protective covers
Safety glasses, face shields and covering boots
Don't forget the helmet
Recommended Post : Know These If You Are a Uniform Supplier
Wear something that is resistant to wear and tear, because you know how much of a labor it takes to be on the field. Be it just for planning and management purposes, it is always overwhelming with so many workers and the entire project of building something meaningful. Jeans and khaki pants paired with polo t-shirts or normal shirts, with the safety jacket over it. To be honest, it depends upon where you are working and what you are dealing with in the world field that dictates your uniform. The safety codes and health concerns are strictly to be followed by the rules (mostly, they are made for constructive reasons). However, you must feel comfortable and nice in your clothes otherwise you will seriously lag in your work. You do not want that, so try on your uniform before you take them home!
Interested in buying some engineer uniforms?
Well, if you are a private label owner, a retailer or a businessman dealing with uniforms, you have the right to know where you can get them at the best of prices, without sacrificing on the standards of quality and service. You will love the catalog if you go through it, and who knows, you might end up being a client for years to come! So, check out the huge range of collections of fantastic designs and get ready to bag some amazing deals!
Click for Audio Version : All That You Need to Know About Engineer Uniforms Right in One Place!
Direction : https://goo.gl/maps/awVJkvffgRRyX31c6