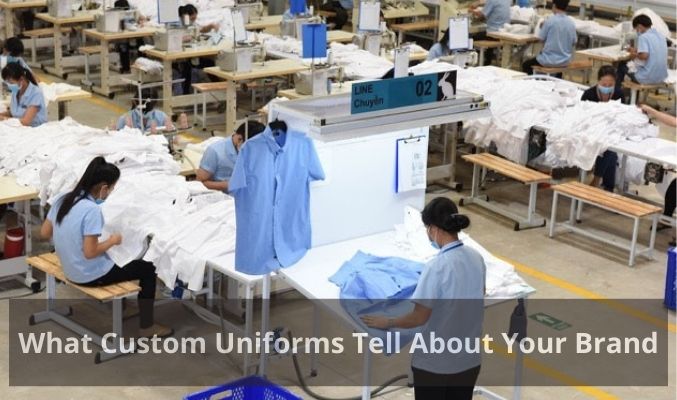 What Custom Uniforms Tell About Your Brand
To achieve success in business, you need to run it effectively and this includes, helping your employees with everything that they might need. It is true that offering them the ultimate access to resources, innovations, and the latest technology is a good strategy but then it might not be enough to beat your competition and get satisfying outcomes in the market. For the best results, you need to get quality custom uniforms from a sought-after customized uniform manufacturer in Canada!
Wondering how custom uniforms can help? Well, customized uniforms can speak a lot about your brand like:
It believes in team spirit
When you ask your employees to come to the office in custom uniforms, it helps to promote team spirit amongst them. In addition to this, everyone wearing the same uniform develops a sense of equality across different levels in your corporation and this helps to increase the productivity levels by motivating them, which in turn ensures complete success of the projects.
To it, the first impression matters
In this generation, where every company is trying its best to stay competitive in the market, brand image is not just critical, it is practically everything for the business owners. Personalized uniforms not only help your employees to stand out in the crowd but also displays a professional, crisp, and eye-catching appearance in front of your major clients or valued customers. For additional impact, there are several amazing ways through which you can personalize the uniforms. To enhance your corporation's professional image and to make sure that your team is able to make a lasting impression, consider adding your brand name, an interesting logo, or some catchy phrase and your staff's names to the custom uniforms.
Your brand prioritizes safety and conformity
Custom uniforms not only play a major role in maintaining professional conformity but they also help to keep the employees safe while they are working. There are many industries that have specific clothing needs that must be followed at all times. When you take advice from a reliable uniform supplier, they are able to guide you well on the right apparel, thus ensuring that your staff stays up-to-date. Such a supplier will partner with you and see which uniforms can help increase the safety and efficiency of the team.
It values the employees
By ordering custom uniforms, you can help your employees save their precious time in the morning, as they would no longer need to wake up and frantically search for ''today's work outfit''. As a result, the chances of their coming late to the office just because they couldn't the appropriate attire on time will decrease. They would simply need to wear their custom uniforms and they would be all ready to start their day.
It focuses on top-notch customer service
Each and every person has experienced that moment at least once in life, when reaching an office, it was almost impossible to find an employee to speak to on a particular floor, regarding some issue. Don't let your company fall into this category too. Get custom uniforms as they will help your team get identified by a customer or client as soon as they come to your office.
A famous uniform manufacturing company in Europe offers a gigantic range of high-quality uniforms at a cool price!
Direction : https://goo.gl/maps/TGcn9CgUigFdgpKH6