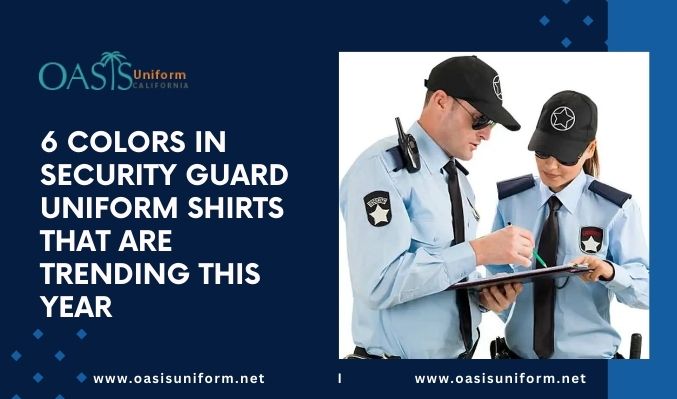 6 Colors In Security Guard Uniform Shirts That Are Trending This Year
Keen to buy a security guard uniform shirt that portrays the alertness and caution you have to maintain during work hours? Then, you must keep watch for these eye-catching shades in security shirts that have been trending in recent times. As a business owner, looking for security uniforms, you must get in touch with a well-known security guard uniform manufacturer urgently.
Bold Black Security Shirt
Nothing looks smarter than a security shirt that's dyed in solid black hue. Whether it's a security shirt of jet black tone or one with greyish black tinge, you can wear a trendy black security shirt for work to appear confident and ever-ready for dealing with any kind of intruder or disturbance.
Suave Gray Security Shirt
You can choose a security shirt crafted with a gray-colored fabric to showcase a dignified professional look. Opt for a full-sleeved formal gray shirt with black pockets or a gray polo neck security shirt to wear at work, looking like a pro!
Recommend Post : Why a Security Guard's Uniform Is So Important?
Sober Cream Security Shirt
Are you looking for a security uniform shirt that makes you look decent during duty? Then, you can select a cottony security shirt in soothing cream color or one in elegant cream shade with brown pockets to exude a charming aura as you carry out your work sincerely.
Graceful White Security Shirt
A crisp white shirt that's neatly ironed is a great choice as part of a security guard's uniform. Choose a classic white security shirt with tidy collars to pull off an able security look, the kind that will convince others to rely on your surveillance skills.
Elegant Light Blue Security Shirt
You can wear a well-fitting security shirt of calming blue shade to look poise and agile. Light blue is a lovely hue for this official purpose as it will not only lend you a relaxed feel but also level up your on-duty style statement! You may choose a soft blue shirt with black pockets as well to add a bit of edge to your guard's outfit. Tranquil blue is an equally chic choice for women's security shirts.
Striking Dark Green Security Shirt
A deep shade of green can be a good option to serve as your security uniform shirt if you're a female security guard as such a tone can make you look fashionable yet professional. But this can also be a refreshing choice for men's security shirt to look dashing.
Are you a retailer, interested to source your stock of security shirts? Then, don't forget to collaborate with a revered security guard type uniform supplier to access well-textured security guard uniform shirts and trousers in smart shades that are designed with perfection.
Direction : https://goo.gl/maps/7RF3uKXwzA8HA9HC6