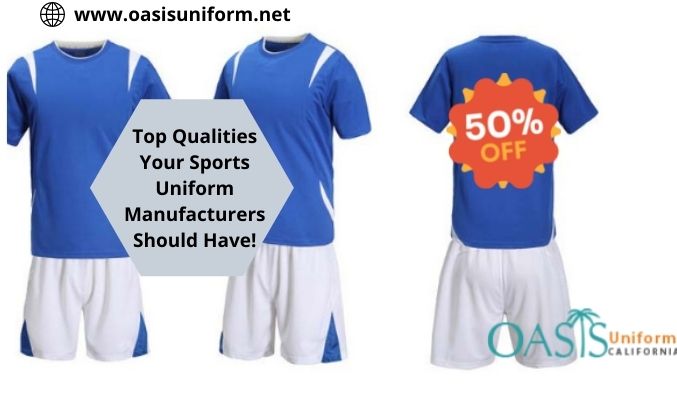 Top Qualities Your Sports Uniform Manufacturers Should Have!
If you are looking for a sports uniform manufacturer, then you need to have some basic ground rules in position. This will help you pick the right one for your uniform needs and also keep your athletes in the right position.
In this blog, we are going to take a look at what these ground positions are. Once you have an understanding of it, the rest will fall in line – no problems at all. So, let us take a look at what your sports uniform manufacturers must possess to give you best services!
1.Understanding of athletic apparel
Quality athletic apparel is very hard to come by and there is a lot specifications that need to be maintained if you are going to get the right stocks. So, if you are going to bulk order uniforms, you must know that your manufacturer knows how to get the job done.
Firstly, your manufacturer needs to have the right kind of features for each of the apparels – from moisture wick to zero movement restrictions, antimicrobial, and other such properties. This will make sure that your athletes are at ease, without which it will be quite a catastrophe!
2.Low MOQs for your team custom orders
When you place custom orders for your team, it is your job to make sure that you choose low MOQ manufacturers. Because if you do not, then things become problematic. For starters, there is a problem because a team can only have finite number of players.
However, that will not matter if you are a retailer bulk ordering custom wholesale uniforms for the different athletic teams and match-ups in town. So, make sure you pick a manufacturer according to whether it is a one-time order, or a recurring requirement!
3.Making sure to get the sizes right
An athletic team has players of different sizes, no matter what sport it is. So, if you are custom ordering from your manufacturer, you should always make sure that you have the right sizes – and the manufacturer will deliver those.
If your manufacturer is ready to customize on a similar level, then you will have hit a jackpot.
These are the kind of qualities you need to look for in a manufacturer. Now that you know what your athletic uniform bulk order needs, get online and start looking for one that will follow through!
Click for Full Audio Version : Top Qualities Your Sports Uniform Manufacturers Should Have!
Direction : https://goo.gl/maps/4mPuPr5D4cwBkBRB7