Trendy and Practical Outfit Ideas for Different Types of Workspace
Work uniforms are more than just a way to organize your daily look. The attire that you choose to wear speaks a lot extrinsically about the kind of work you do. However , intrinsically it can have a lot of effects on your confidence level as well. Hence, it is important that you wear the right kind of formal uniform that will reflect the values and aesthetics of the type of work that you're involved with.
The idea is no not limit yourself to the dress code rather play up your personal style with it to create trendy and unique outfits. In fact one of the popular formal uniform manufacturer has come up with a collection you can have a look at. Meanwhile read on the blog below to know more about the same.
Law / Finance
Certain work environments requires you to wear a conservative outfit. In this case, you really cannot opt for anything that shows skin or consist of a breezy silhouette. Hence , a sleek pastel colored blazer with a printed top works absolutely fine. For the bottom wear , the best thing you can opt for is a pair of wide legged trousers. Stick to a pair of neutral toned heels to complete the outfit.
Fashion/PR
For such work when you want to have fun with your outfit but also wants to appear polished and chic, you need to play with traditional and modern accents. Hence ,opt for a corset top with embroidery detailing along the hemline . For the bottom wear, stick to a dark neutral pencil skirt. Layer the outfit with a classic beige trench coat or a long jacket to complete the look. Stick to a pair of blingy square mules to add some modern vibe to the outfit
STEM
If you're working in any of the sectors related to science, technology , engineering or mathematics , the key to nail the serious look is with the help of conservative clothing pieces. Hence, you can either opt for a neutral toned outfit or stick to something in the monochromatic.
Thus, an outfit comprising of a midnight blue flannel pant, ivory white shirt and a black blazer is all that you need to make the HR happy. For the shoes, you can opt for the same route and stick to some serious looking brown leather boots to complete the look.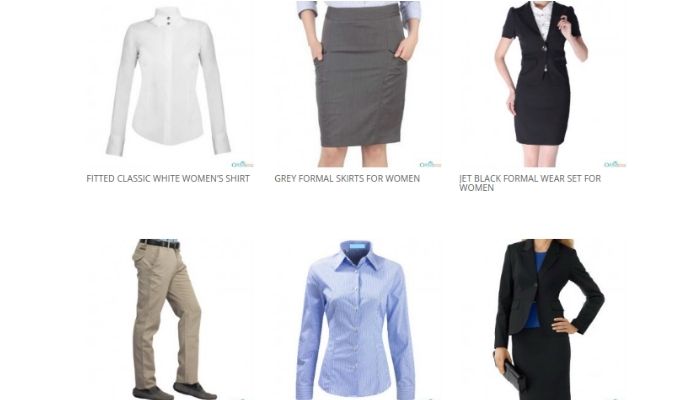 Marketing/Journalism
Chances are that you'll be running around a lot for your work. Hence, in this case it is important that you dress up in certain clothing pieces that are easy on the skin yet spells stylish in big bold letters. However, it does not mean you can sneakily include jeans in your daily attire. If you want to look like someone who means business opt for a cropped printed blouse, layered midi skirt and a jacket if there's a nip in the air.
Recommended Read: Here's How Corporate Uniforms Are Helping The Corporate Sector
Start up
Most of the start -up environments are casual, although that does not mean that you can wear 'anything' to the office. It's okay to wear jeans but disastrous if you wear leggings. Hence, in this case , you need to incorporate some leather clothing to balance the casual aspect of the outfit. Thus, the best thing you can opt for is a pair of fitted classic jeans , a black shirt and a matte brown leather jacket to complete the look.
Bulk order clothing especially from suppliers popular for formal uniform manufacturing and get affordable discounts on the same. All you need to do is browse through the vast collection of clothing and state the purchase needs accordingly to the help team. You can even get discounts on the same, hence hurry!
Direction: https://goo.gl/maps/bFBUcxaYzvEytfEv8