Various Facets Of A Doctor Uniform
Uniforms at a workplace render an authoritative touch to a profession, with refined poise and finesse. The medical industry too abides by strict uniforms and dress codes, with customized logos on the of the hospital embossed neatly. A doctor uniform supplier introduces a variety of outfits for this profession, with top-class quality and smart designs and you are thinking to order in bulk for the doctors of your hospital, and then go through the following for a vivid idea:
Strict formal coats
In a serious profession, looking formal is must. Hence manufacturers have introduced a range of coats for both male and female doctors who generally come in a subdued color range of blue and white for a subtle appearance. These coats go till the knee or are generally of mid-length with notched collars, full sleeves and intricately stitched buttons. For better convenience to keep the instruments handy, the manufacturers give the facility of chest or patched lower pockets. In delicate and premium quality fabric, mainly in cotton, these coats are durable and washable so that they can easily retail rough usage for a long time. Recently, formal coats for lady doctors come sans collars with sharp V-neckline.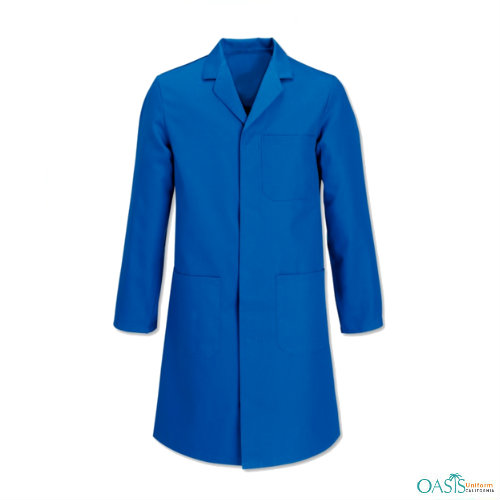 Newfangled lab coats
The lab coats generally look very similar to the formal ones, especially for male doctors, but the global designers have recently crafted sophisticated lab coats for lady doctors in exquisitely fresh designs. These outfits come in elasticized cuffed sleeves and finely stitched buttons running down till the end vouching for a refined finesse and poise. Instead of the plain collars, manufacturers have come up with mandarin ones to lend something off-beat, with an amazing fit tailored to perfection. Made of pure cotton, these coats get easily cleaned in one wash without any damage to the quality of the fabric or color. Retailers always look into the material at first while ordering these coats in bulk from a leading doctor uniform supplier.
Smart trousers
Tailor made distinct trousers are important to team up with the coat for the complete finishing of a doctor uniform, for both male and female doctors.
For men – The pants for them are mainly pleated with an easy straight leg fall, nor too tight, neither too loose. With a firm and sober look, they mostly have medium raised waistband and side pockets for better convenience. To render ultimate comfort at long hours of professional work, these are mainly durable and lightweight, made of cotton resisting sweat and moisture easily.
For women – Crafted in superior quality fabric for all the stretch and rough use every day comes the well stitched slim fit pants for the lady doctors, safeguarding ventilation and freedom of movement. Rendering a toned poise with the straight fit and medium raised waistband, these are either purely made of cotton or blended with polyester.
Recommended Post : The Purpose Of Medical Uniforms At Hospitals Or The Medical Environment In General.
Unisex cargo pants
For the cutting-edge appeal on the weekends, doctors can try out smart looking cargo pants to go a little casual in terms of a doctor uniform. Baggy and loose pants with multiple pockets and exterior flaps look tremendously stylish with amazing cargo fit and modern design.
Click for Audio Version : Various Facets Of A Doctor Uniform – Oasis Uniform
Direction : https://goo.gl/maps/MKh5p4QuSf2Ym2Uy6