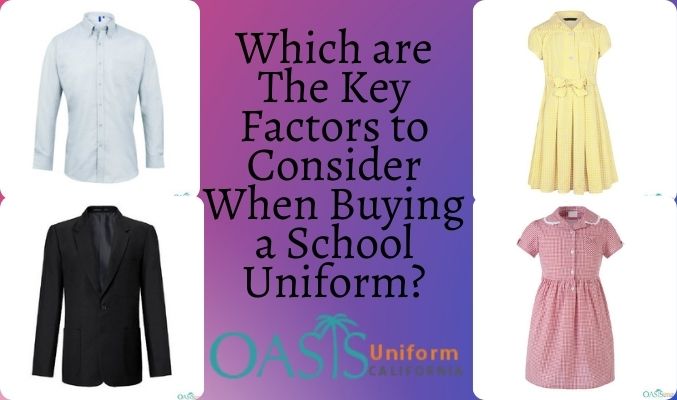 Which are The Key Factors to Consider When Buying a School Uniform?
Do you want to purchase a good school uniform for your child? Though school uniforms have the same design, it may be difficult to make a selection that's ideal for your kid. So, for your convenience, we've listed some of the major factors you should look for to ensure that you've got the best school uniform for your kid's wear. If you're a business owner, get in touch with a reputed uniform supplier, especially known as a school uniform manufacturer for boys and girls.
Multi-pack deals
As school uniforms are clothing for daily wear, your kid should always have a spare one ready whenever their uniform goes for laundry. When it involves getting hold of uniform shirts, trousers, and skirts, it's better to buy multiple packs and save money. Multi-packs usually cost cheaper than buying the items separately and you can find good multi-pack deals being offered by established stores.
Excellent fabric technology
Children love to play and this often leads them to acquire stains and marks on their uniforms. You can't tell your children not to play in the field but you can definitely be thankful that smart fabric technology is making school uniforms stain-resistant. A fine repellent finish keeps the color of shirts, trousers and skirts intact and prevents them for fading. This retains the new and fresh look of the uniform.
Supreme quality
School uniforms should be able to withstand continuous wear and tear. So, you must check out the uniform construction before you buy it. See if the elbows and knees of trousers and jumpers have reinforced material. Also, make sure that the uniform materials are well-stitched without any loose threads. Pockets or hem should also be crafted with care so that they don't look like they may come off anytime. Take a close look at these construction details to get hold of a school uniform of good quality.
Correct fit
As a school uniform is something your kid will be wearing throughout the week, you need to look for a uniform that fits them well. You must try to get a uniform of a bigger size so that they grow into it and it doesn't feel tight. Plus, you can choose trousers with an adjustable waistband for a comfortable fit. Go for well-fitting uniforms so that your child feels optimum comfort wearing it to school.
As a retailer on the search for quality school uniforms, you must connect with a top-rated school manufacturer, equally famous as a school manufacturer for girl and boys. Such a manufacturing hub can lead you to smart and comfy schools uniforms at best prices.
Direction: https://goo.gl/maps/MXU67QUr67wEzkut7